Things to do in Garden Route
---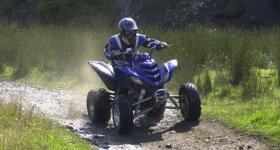 The Garden Route is a perfect family destination and boasts ten nature reserves showcasing various ecosystems as well as unique marine reserves. Popular outdoor activities include world-class malaria-free safaris and game drives, 4x4 and other scenic routes, as well as world-class golfing. Swim, surf or simply have some fun in the sun on the Garden Route's beautiful beaches. Spend some time trawling malls, craft markets and quaint country stalls as you hunt down local creative endeavors.

Outdoor Activities
For the enthusiastic golfer, the Garden Route is a Golfing Mecca that offers golfing experiences to all levels of players, from the amateur to the professional.
There are several excellent hiking trails ranging from a one hour walk along the Wilderness Lagoon which is rich in bird life, to a variety of day walks in the mountains, along rivers or through cool forests. Longer hikes include the stunning five-day Otter Trail along the Tsitsikamma coast and the seven-day Outeniqua Trail, known as one of the toughest in the country.
Horse riding
Quad biking
Mountain biking and cycling tours
Fishing; deep sea, off-shore or in the lagoon
Scuba diving, sea kayaking and snorkeling exploration
Surfing in Mossel Bay, Victoria Bay, or Plettenberg Bay
Inland river canoe trips
Boat cruises on the Knysna Lagoon
Enjoy sundowners overlooking some of the world's most stunning stretches of coastline
Bird watching; with more than 280 indigenous bird species to be seen
Whale and dolphin watching from mid-June to November
Dolphins and Whale Ocean Safaris (Mossel Bay & Plettenberg Bay)
Hike three of South Africa's top hiking trails - the Otter, Tsitsikamma and Dolphin trails.

Extreme Activities
The Garden Route in the South African Western Cape is paradise for any adventurer! With beaches, forests and mountain ranges as a playground, action enthusiasts and adrenalin junkies can choose from a variety of extreme activities.
Be challenged by the worlds highest bungee and abseil sites, ostrich rides, shark cage diving, black water tubing, aqua sports, 4x4 routes, paragliding and much more.
Bungi jumping from the Bloukrans Bridge (the highest in the world at 216m) or Gouritz River Bridge
Abseiling
Shark-cage diving in Mossel Bay
Blackwater tubing down the breathtaking Storms River
Paragliding trips all over the coast, forests and mountains.