Trips on rail with the Outeniqua PowerVan are of the most popular tourist attractions in the South Cape, Garden Route.
This is a unique eco experience and you can enjoy the Garden Route from the comfort of rail busses in exclusive groups. Daily trips between 07:00 and 21:00 are available.

Travel in the Outeniqua Mountains, one of the most scenic railway passes in the country. Experience the forest and four passes, waterfalls and six tunnels, fynbos and proteas, bird and animal life and the panoramic picnic area.
The Outeniqua Transport Museum serves as the departure and arrival point for both the Outeniqua Choo Tjoe and Outeniqua Power Van. It houses a large collection of steam locomotives and carriages dating back to the bygone years. The Museum offers hours of exploration and intrigue while your children can enjoy a ride on the miniature steam train.
We also have excellent catering facilities available at the Tewani Coffee Shoppe or the Stimela Restaurant.
· Special trips for special occasions can be arranged
· A Minimum of 20 passengers are required.
· Booking is essential.
· A picnic at Power – with a spectacular view - is included in all these trips. Passengers bring their own picnic basket.
· Operating times :- Monday to Saturday trip @09:00, 12:00 and 12:30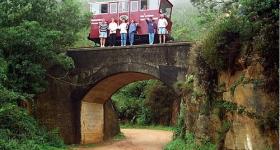 Contact the Outeniqua Power Van:
· Outeniqua Transport Museum
· 2 Mission Road, George, 6530
· E-mail opv@mweb.co.za
· Website: www.powervan.co.za
· Tel. +27 (0)44 801 8239
· Fax: +27 (0)44 801 8246
· Cell 082 490 5627