Mossel Bay Garden Route - Information
---
QUICK FACTS: MOSSEL BAY GARDEN ROUTE SOUTH AFRICA
Established: 1848
Elevation: 245 metres
Area: 42.2 km2
Population: 29887 (813.17 per km²)
Households: 9033 (245.77 per km²)
Province: Western Cape
District: Eden
Municipality: Mossel Bay
GPS: 34°11′00″S 22°08′00″E
| Gender | People | Percentage |
| --- | --- | --- |
| Female | 15628 | 52.29% |
| Male | 14259 | 47.71% |
| | | |
| Population group | People | Percentage |
| Coloured | 15379 | 51.46% |
| White | 10237 | 34.25% |
| Black African | 3799 | 12.71% |
| Indian or Asian | 243 | 0.81% |
| Other | 229 | 0.77% |
| | | |
| First language | People | Percentage |
| --- | --- | --- |
| Afrikaans | 23720 | 81.47% |
| English | 2689 | 9.24% |
| isiXhosa | 1904 | 6.54% |
| Other | 176 | 0.60% |
| Setswana | 154 | 0.53% |
| isiZulu | 149 | 0.51% |
| Sesotho | 122 | 0.42% |
| Sign language | 51 | 0.18% |
| Tshivenda | 48 | 0.16% |
| isiNdebele | 37 | 0.13% |
| Sepedi | 33 | 0.11% |
| SiSwati | 20 | 0.07% |
| Xitsonga | 12 | 0.04% |

Mossel Bay has been named Town of the Year for 2017 by the popular kykNET programme, Kwela.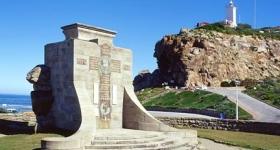 Halfway between Cape Town and Port Elizabeth in the heart of the famous Garden Route nestles the seaside town of Mossel Bay. A bustling holiday resort in summer and the ideal retreat in winter, Mossel Bay Garden Route is situated on a spectacular sun washed peninsula embraced by the warm Indian Ocean.
Mossel Bay is a gentle seaside town, one where you will really relax and quickly slip into our "No Hurries, No Worries" frame of mind.

Accommodation
Mossel Bay offers the full spectrum of accommodation establishments and you'll find a welcoming place to stay no matter what your budget. Camp sites and caravan parks, inexpensive B&Bs and top-end lodges and hotels are spread out around the town - so nobody is excluded. And, what's more, you'll find beach-front accommodation across the spectrum - whether you're into rough-and-ready camping or sophisticated up-market pads equipped with all the modern conveniences.

Climate
Mossel Bay is synonymous with good weather - perfect for enjoying our beaches and the great outdoors. We enjoy an average of 320 sunny days per year. Rain falls mostly at night and mostly during summer. In 1992, the Guinness Book of Records reported Mossel Bay as having 'the second mildest climate in the world" (first was a small town in Hawaii).

Average Temperatures:
Summer (September - April).
Day Time: 26° C
Night Time: 12° C
Dress sense: Wear light clothing, a hat and sun block.
Winter (May - August)
Day Time: 19° C
Night Time: 8° C
Dress sense: Wear light clothing during the day; you'll need a sweater or coat at night and during the occasional cold snap. Frost is rare and snow has never been recorded in Mossel Bay, although it is sometimes seen on the peaks of the Outeniqua
For the businessman, Mossel Bay offers a selection of conference facilities, corporate breakaways, investment opportunities and Lekgotlas (that's the African way - meetings where everyone is heard)
Emergency Services
10111 - Police (National Number)
+27(0)44 691 2222 - Mossel Bay Police Station
10177 - Ambulance (National Number)
+27(0)44 691 1911 - Private Ambulance Service
Mossel Bay Information Center
Mossel Bay Tourism's Information Centrex on the corner of Market and Church Streets (in the Central Business District) offers maps, brochures and general information as well as tourist assistance and assistance with making reservations for accommodation and adventures.
Mossel Bay Tourism
Telephone: +27(0)44 691 2202
Fax: +27(0)44 690 3077
Website: www.visitmosselbay.co.za
E-mail: admin@visitmosselbay.co.za
GPS Coordinates: 34º 10.876 South; 22o 8.578 East
Open: Monday – Friday: 8:00 a.m. – 6:00 p.m. Saturday: 9:00 a.m. – 4:00 p.m. Sunday: 9:00 a.m. – 4:00 p.m.