Hartenbos Garden Route - Information
---
QUICK FACTS: HARTENBOS GARDEN ROUTE SOUTH AFRICA
Established: 1933
Elevation: 0m
Area: 24.20 km²
Population (2011): 4196 (173.39 per km²)
Households: 1450 (59.92 per km²)
Province: Western Cape
District: Eden
Municipality: Mossel Bay
GPS: 34°7′S 22°7′E
| Gender | People | Percentage |
| --- | --- | --- |
| Female | 2218 | 52.86% |
| Male | 1978 | 47.14% |
| | | |
| Population group | People | Percentage |
| White | 3000 | 71.50% |
| Coloured | 735 | 17.52% |
| Black African | 416 | 9.91% |
| Other | 25 | 0.60% |
| Indian or Asian | 20 | 0.48% |
| | | |
| First language | People | Percentage |
| --- | --- | --- |
| Afrikaans | 3376 | 93.36% |
| English | 154 | 4.26% |
| isiXhosa | 27 | 0.75% |
| Sesotho | 17 | 0.47% |
| Setswana | 9 | 0.25% |
| isiZulu | 8 | 0.22% |
| Other | 6 | 0.17% |
| Sign language | 6 | 0.17% |
| Tshivenda | 5 | 0.14% |
| isiNdebele | 3 | 0.08% |
| Sepedi | 2 | 0.06% |
| Xitsonga | 1 | 0.03% |
| Not applicable | 580 | |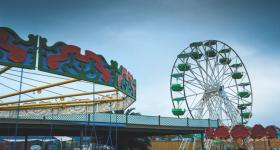 Hartenbos is a small seaside resort in the Mossel Bay local municipality, located some 45km outside George, in the Western Cape province of South Africa.
It is a family holiday town that is known for its endless expanses of golden beaches for walkers and anglers to enjoy, as well as a shallow sandy lagoon that offers safe swimming and canoeing. During school holidays the tranquil town becomes a bustling seaside destination accommodating more than 15 000 visitors.
The town has its own primary and private schools, a private hospital, sport clubs and several churches. For serious shopping head to the nearby Langeberg Mall in Mossel Bay, or to George with its well-established infrastructure, and the Garden Route Mall.
The ATKV Hartenbos Beach Resort is the largest self-catering establishment on the Western Cape's Garden Route coast and offers rondavels, camping, caravanning, self-catering flats and beach house accommodation.
The resort also offers modern conference facilities that can accommodate groups of up to 1 000 delegates and top-quality catering. Recreational activities include outdoor and heated indoor pools, miniature golf course (putt-putt), trampolines, tennis courts, games arcade, waterpark (Supertube and slides), a funfair and five kilometers of Blue Flag Beaches nearby.

Climate
Weather in Hartenbos is usually excellent as the Mossel Bay area boasts the second most moderate climate in the world. Hartenbos receives about 334mm of rain per year with rainfall occurring throughout the year, lowest rainfall (22mm) is in June and the highest (37mm) in October.
Average midday temperatures for Hartenbos range from 18.6°C in July to 26.6°C in January. The region is the coldest during mid-winter in July when the mercury drops to 7.7°C on average during the night.