When Paul explains the cheesemaking process you realise much more is involved than just converting milk into cheese. It is a complex process and a mix between art and science. "Cheesemaking is a specialized trade. It takes a lot of knowledge and experience and there are even cheesemaking training courses available," says Paul.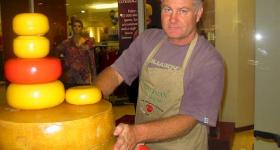 Paul has been in the Garden Route (now based @ The Heath in Plettenberg Bay) in the Southern Cape since 1990 and has been in the cheesemaking business for the past 15 years. Although a born South-African, Paul knows the art of cheesemaking as he learned this ancient trade from his in-laws who are from Holland.

The best cheesemakers are from countries like Holland , France, Italy and Switzerland. In Europe you will find cheese shops with as many as five hundred different types of cheese in stock.

According to a legendary story, the first cheese was discovered by an Arab nomad. It is told that he had to take a long journey and filled a saddlebag with milk. After a long ride and getting very thirsty, he stopped to drink some of the milk. He found that the milk had become solid white lumps. Where do you start when you want to try something different than the average supermarket cheese?

Paul suggests you try the Dolce Latte. It is a sweet blue cheese from Italy and it means, sweet and creamy, when translated. Paul says it tastes wonderful when you smear it on steak. It may sound like a strange combination, but you can also try the Dolce Latte cheese on green figs!


Another good tasting cheese is Boerenkaas which originated from Holland. It tastes good in pasta and on pizzas. Bokkaas is a good choice for the health conscious person, as it is low in fat. This cheese originated from Griekwaland.

The best advice Paul gives to his clients, is to base their decision on taste and not cost, when buying cheese. Paul skillfully carries on and slices cheese for visitors to taste while answering all the questions from everyone that wants to know more.

I noticed the inside has texture to it. According to the comments of some visitors, I made the assumption that the smellier the cheese, the better it's going to taste!


"There is big difference between mass-produced and home-made cheese," Paul explains. "Home-made cheese has a far better taste and quality, because it is hundred percent natural. No colorings preservatives or taste ingredients are used. Only fresh milk is used."

The age of cheese plays a big role in the taste of cheese. Some home-made cheese can be kept for as long as five to six years. An interesting fact is that a two kilogram cheese can loose halve a kilogram in weight within six months.
"The aromas and flavors are at their maximum levels you let the cheese warm to room temperature," says Paul.


After my visit to CHEESEMAN, I find myself unconsciously comparing the taste and texture of mass-produced cheese to those of home-made cheese.

Come and experience the taste of real cheese. It is an excursion that can be enjoyed by the whole family. If you are interested in watching the whole process of cheesemaking, contact Paul to arrange a visit to the "Silver Lilly" farm on the George Airport road.

CHEESEMAN @ THE HEATH PLETTENBERG BAY
Directions: On the N2 highway just before Plettenberg Bay
See: Google Map
Contact: 082 491 0102
Hours: 9:00 - 17:00.